Recipe for a 24 cm cake tin approx.
Pasta frolla (shortcrust pastry):
90 g butter
45 g margarine
1 zested orange peel
270 g flour
115 g sugar
4 egg yolks
1 tbs port/marsala or sweet wine (optional)
Filling:
140 g jam or marmalade
1 tbs rum
1 tsp cocoa powder
Tip: Keep the butter and margarine out of the fridge for a while so they will be easier to work with.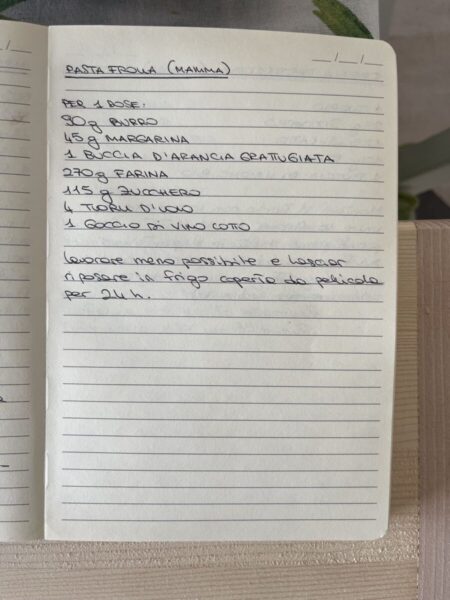 Choose a flat surface (like a wooden board, if you have one, but not the press bed, as it must be food-safe!). Form a kind of volcano with the flour and sugar and put the yolks, butter, margarine etc. in the center. Try to incorporate everything together, but work the dough as little as possible. My mom used to say that by working it a lot the pastry "goes crazy" and burns in the oven. No scientific explanation, sorry. Form a ball, wrap it with plastic wrap and let it rest in the fridge for at least 1 hour (up to 24 hours).


Mix the jam/marmalade with the cocoa powder and rum.
Take the shortcrust ball and cut 2/3 of it to make a smaller ball. Keep 1/3 of it for the border and letters/decoration. Place the ball on baking paper and flatten it with a rolling pin, should be between 12 and 18 didot points thickness. Now move everything into the cake tin. If it is not round, cut off the excess and save it for later.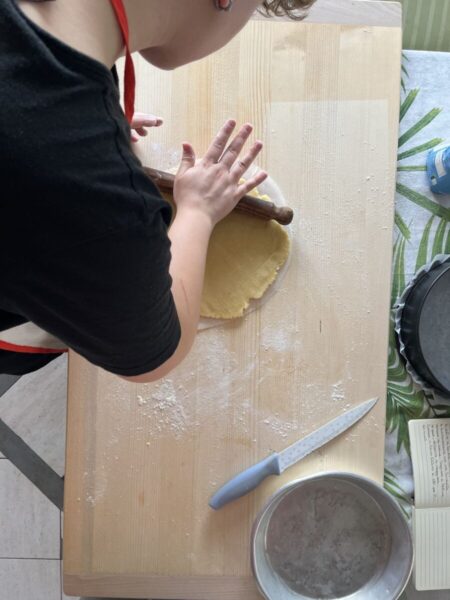 Make a snake by rolling the remaining 1/3 of the shortcrust pastry and use it to create a circular border on the rolled out pastry. Pour the jam into it, and distribute it evenly using a spoon. Decorate the surface with the remaining shortcrust pastry and bake at 180 degrees centigrade in a preheated oven for about 20-25 minutes.


Enjoy your type pie!