Over a ten-week period letterpress workshops across the globe threw open their doors and invited anyone who may be interested in for a 'private view' of their studios. To look at their collections, to see their work and the things which influence and inspire them. This was to become 'series one' of the 'United in Isolation' initiative – a weekly live streaming event, broadcasting on Facebook between 18th April and 20th June 2020.
The idea for United in Isolation was first conceived by Andrea Brekke (a printmaker, illustrator and educator from Oslo, Norway) in response to the emerging Corona crisis and the impact he felt it was having upon a worldwide creative community. In early March 2020 Andrea posted a 'call out' on his Instagram feed:
Printmakers, artists, photographers, graphic designers, illustrators, students of the aesthetic arts, fellow visual workers of the world. We are now witnessing something we haven't seen before. Communities are shut down, borders are closed, people are isolated. We have two options. 1: To turn our backs against each other, or 2: To finally realize that we are all connected and that we need to pull together. I call on you to share your vision under the hashtag #unitedinisolation If you do, it will be grand. If you don't, I will look like an idiot. Who wants to join me? 
This message resonated with lots of people not only close friends of Andrea but a wider community navigating their own way through Corona. Elettra Scotucci, Andrea Vendetti (Slab Press, Italy), Myrna Keliher (Expedition Press, USA) and Sergei Besov (Partisan Press, Russia) were some of the initial respondents. I quickly followed contributing a listing of prospective workshops who may be convinced to present and Andrea Torres (Tipo Móvil. Chile) completed the team.
Behind the scenes a set of promotional texts were composed, a Facebook platform and testing site established, a brand developed, database configured, guidelines for speakers written and distributed. No one knew how it would work, what people would present and who would be interested enough to 'tune in' and watch – we just hoped it would be useful and if nothing else help pass the time more sustainably than without it.
The first week's presentations included Myrna and Sergei. It was very emotional to see their faces and hear them speak. Perhaps as these were LPW members and I knew that there wasn't going to be an LPW event in 2020, it made the presentations even more poignant.
Prior to this I had been in contact with a few LPW members by email to see how they were navigating coronavirus at home, with some even battling it in close quarters. We were all in the process of finding our own way through the emotional and physical impact that Corona was having.
I hadn't considered that because the streaming was 'live' the audience would simultaneously arrive and experience the event together – or at least virtually together. On the first screening as the audience signed in, I recognised distant friends and could say a virtual 'hello'. As the initiative grew and gained more traction, large numbers of people reported they had begun to depend upon the broadcasts, it helped them punctuate the week where prior one set of seven days has merged seamlessly into the next – it helped make a Saturday something to cherish in a time devoid of much celebration. And break out 'after parties' continued the dialogue using this newly found digital interface!
I didn't even realise you could 'stream' live video, invite comments or archive film on Facebook before I was invited to join the initiative! And I knew a lot of people where not comfortable in using the platform. I was very much aware of other on-line communities and how they had helped unite disparate groups of like-minded people. I recall first joining Flickr in 2008 and beginning a digital dialogue with fellow letterpress printers including Jens Jørgen Hansen (Denmark) and John Christopher (UK). This was four years before the first LPW Summit and eight years before I would actually meet both Jens and John in person!
From the outset, United in Isolation was to be an inclusive entity – each week should not be dominated by geography or gender, in fact the scheduling needed to represent the widest spectrum of printers from the broadest range of categories. The team searched their networks to find speakers in counties including Sweden, Argentina, USA, Denmark, South Africa, Uruguay, Russia, UK, Japan, Chile, Spain, Estonia, Italy, Poland, Australia and Pakistan – language was not going to be a barrier and team members even helped to translate presentations when needed.
It became apparent that the work people where producing had an undercurrent of both creative and political expression. Presenters were writing, designing and printing a commentary on covid as well as other topics including climate change, ecology and gender issues. Perhaps in a time where the barrage of digital communication had begun to drown our rational sensibilities the printing word provided a different more clarified message. Rozemarijn Oudejan's work 'Stay the fuck home' (Studio Zeedauw) being one which I felt we were all thinking but possibly afraid to utter.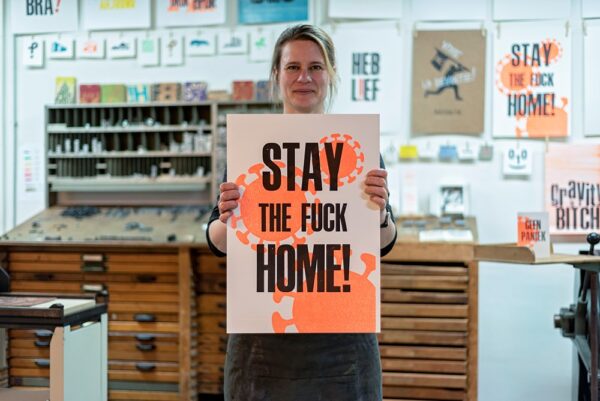 Just over halfway through the series of presentations, news reports were published about the brutal killing of George Floyd in America by a Minneapolis police officer. This resulted in global protests and as expected printed responses in letterpress. For a moment Covid was upstaged by a more important directive, that of 'Black Lives Matter'. The origins of letterpress are to impart information – the process is slow so at times decoration and flamboyance are not needed. 'Spell it out and print it big' became very apparent as a methodology in a lot of the studios. Yet, to hear Rick Griffith (Matter, USA) describe the necessity to bond his posters to stick as a form of self-defence in preparation for a peaceful protest was very difficult and at the same time tragic to hear. As Sergei stated it was difficult to find a printing press or anything letterpress in Russia as most of it was smashed to ensure any voice other than the governments would not be heard. This letterpress stuff is more powerful than we sometimes give it credit for!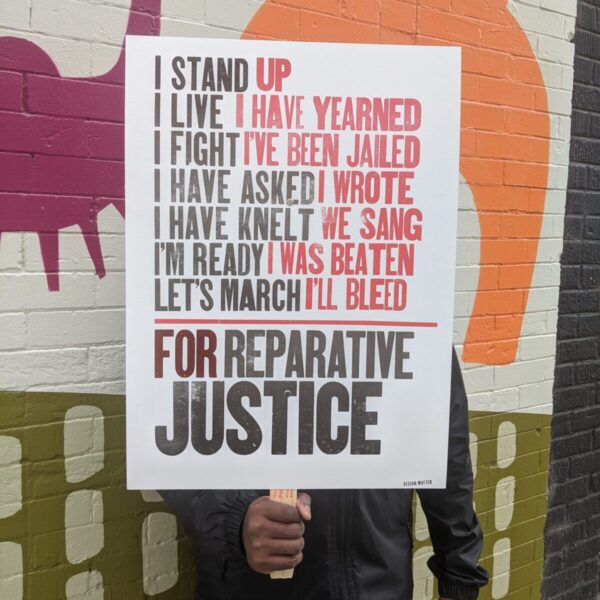 What would be left after ten weeks of production was the beginning of a global archive into contemporary letterpress practice – a digital insight into an analogue passion. From garden sheds, to offices through to bespoke spaces housing important artefacts which help map the evolution of communication. Redundant stock, out of date machinery and scrap is how some people describe our collections – to us it evokes a dangerous passion, some might even call it an obsession.
United in Isolation has helped to re-link arms, embrace both existing a newly found acquaintances and to re-engage our dialogue where Covid, at times had tried to silence it. Perhaps Covid (whatever shape or form it may take) should be thanked for this – it has enabled the community of letterpress printers to grow ever so slightly. And there is some comfort to be had in the knowledge that the practice of letterpress printing is safe and well in the hands of so many people across the globe. I have witnessed a fraternity without boundary or prejudice. Where social media documents so much negativity in relation to 'difference' across the globe at this moment in time our network welcomes and in fact celebrates it. Both LPW and United in Isolation have always been the most inclusive of communities and ones which I am very proud to be part of.
And what about season two – what is it, what shape is it, when will it take place and who will be found to present on it? At this stage I can't answer any of these questions. Other than the fact that I am confident it will happen in some form. At this moment in time the team are taking a well-deserved break and aim to come together again at the end of the summer to discuss what direction United in Isolation will take. Conversations have already began about archiving the first series and establishing some kind of web platform outside of Facebook. We are open for suggestions and dialogue, so if you have any thoughts or know someone who has the same fascination with letterpress printing please get in contact by email at: onlineletterpressfestival@gmail.com.
I can't write this without passing on my thanks to Andrea Brekke for having such foresight to consider such a thing – it's been invaluable. And further thanks to Elettra Scotucci, Andrea Vendetti, Myrna Keliher, Sergei Besov, Andrea Torres for being such a great team.
And finally a whole-hearted thank you to all the presenters who were happy to let us in and the audience for being so supportive and forgiving when the wifi cut out or the video buffered for a minute or two.
… … …
Elettra Scotucci & Andrea Vendetti – Slab Press. Italy.
Phil Gambrill  – Fresh Lemon Print. Australia.
Sergei Besov, Demon Press / Partisan Press. Russia
Myrna Keliher – Expedition Press. USA.
… … …
Peter Duffin & Sam Larson – Animales de Lorca.Valencia. Spain
Judith Berliner & Ethan Cameron – Full Circle Press. USA
Aleksandra Stępień – Poland.
Ane Thon Knutsen – Noway.
… … …
Carl Middleton – Studio B. UK.
Jens Jørgen Hansen – Bogtrykker. Denmark.
Veronica Bassini – Anonima Impressori. Italy.
Rodrigo Cuberas – Argentina.
… … …
Nestor Ljutjuk – Labora. Estonia.
Vida Sačić – USA.
Mitsunobu Hosoyamada – Letterpress Letters. Japan.
Thomas Gravemaker – Letterpress Amsterdam. Netherlands.
Sandro Berra – Tipoteca Italiana. Italy.
… … …
Rozemarijn Oudejans – Studio Zeedauw. Netherlands.
Lars Amundsen & Matthias Beck – Tipos en su tinta. Canary Islands.
Michael Hepher – Clawhammer Press. Canada.
Andrea Torres – Tipo Móvil. Chile.
… … …
Luise Valentiner – Trigger Press. Scotland.
Gabriel Pasarisa – Caja Baja. Uruguay.
Amy Redmond – Amada Press. USA.
Salman & Kamran Ghani – A1 Block & Letterpress. Pakistan.
… … …
Martin Ciolkosz – Impressed. South Africa.
Graham Bignell – New North Press. UK.
Martina Vincenti – La Tipografa Toscana. Italy.
Jorge Lar – Prelo Prints. Denmark.
… … …
Armina Ghazaryan – Letterpress Corner. Belgium.
Rick Griffith – Matter. USA.
Federico Cimatti – Prensa La Libertad. Argentina.
Katherine Anteney – UK.
… … …
Lina Nordenström – Grafikverkstan. Sweden.
Stephanie Carpenter & Jim Moran – Hamilton Wood Type & Printing Museum. USA.
Danitza del Carpio – Letra Imprenta. Peru.
Eva Lebens – In My Back Yard. Netherlands.
… … …
Ben Blount – Make. USA.
Alejandra Portilla de Tirado – 30 Dedos. Mexico.
Marcos Mello – Oficina Tipográfica São Paulo. Brazil.
Andreas Brekke – Norway.
… … …